Hidden secrets, aka Easter Eggs, are hidden treats left by moviemakers. All started back in the '70s when Atari, the video game maker, didn't give credit to their game designers. One of them, Warren Robinett, added a secret code in his game "Created by Warren Robinett". Today, you can even see Easter Eggs in popular animated movies.
Here are 20 Easter Eggs in the most popular animated show:
1. The carpet in "Toy Story"
The carpet in Sid's house in "Toy Story" was inspired by "The Shining". "The Shining" is one of the most famous horror movies in history.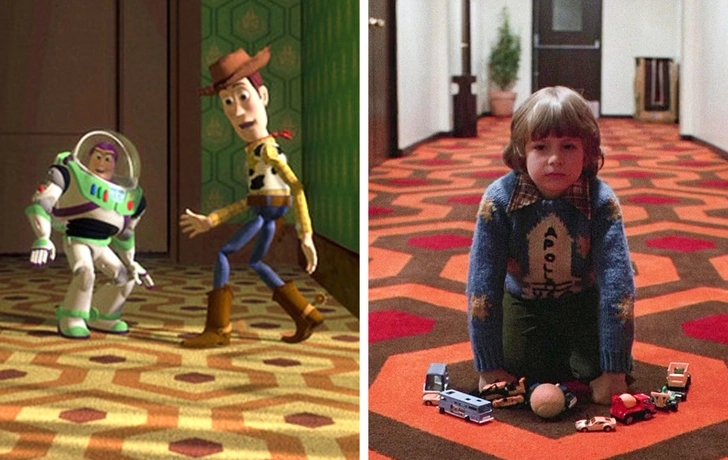 2. The characters' names in "Frozen"
When the characters' names from "Frozen" are put together, they sound like Hans Christian Andersen. "Frozen" is based on Hans Christian Andersen fairy tale "The Snow Queen" which was published in 1845.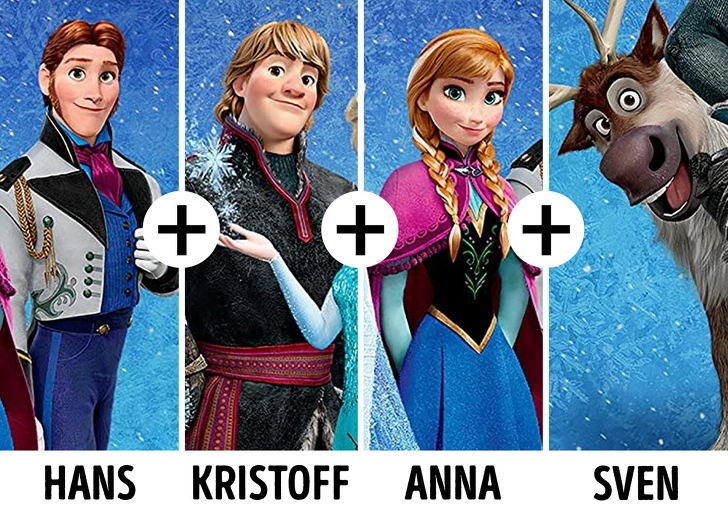 3. Singing in "Frozen 2"
Kristoff's song "Lost in the Woods" was invoking lots of " '80s rock songs. Multiple Svens coming up behind Kristoff when he was singing, is a reference to Queen's "Bohemian Rhapsody".
4. Wolverine suit in "Flushed Away"
When Roddy (voiced by Hugh Jackman) is deciding what to wear, he pulls out a Wolverine suit. Believe it or not, Hugh Jackman, who played Wolverine, never wore the classic Wolverine suit from the comics. He even said that he might finally wear it for Halloween. Just do it, man!
5. The classic Macintosh in "Coco"
In the land of the dead in "Coco", the civil servants use the classic Macintosh. When Mamá Imelda tries to find out why she can't leave the Land of the Dead to go visit her family, the clerk assisting her uses a Macintosh computer to look her up. This is a tribute to Steve Jobs who made Pixar possible.
6. Sid the Sloth in "Robots"
In "Robots", there is a robot that looks like Side the Sloth from "Ice Age". A robotic version of Sid the Sloth appears when Rodney first enters Robot City. Specifically, when he approaches the street performer.
7. Justin Timberlake in "Shrek 2"
In "Shrek 2", Fiona has a poster of Sir Justin, modeled after Justin Timberlake, in her bedroom. Cameron Diaz who voiced Fiona was dating Justin at the time. I guess Shrek should be worried!
8. Binford Tools in "Toy Story"
The tool box that Sid uses to weigh down the egg crate over Woody in "Toy Story" has a "Binford" logo on it. This is a reference to Binford Tools, the sponsor of Tim Allen's TV show "Tool Time" on his show "Home Improvement."
9. Moana and Stitch with a big leaf
Moana saving the baby turtle with a big leaf is a nod to Stitch using a big leaf to give shade to turtles in "Lilo and Stitch". Some people say that this could be a coincidence, but Disney's attention to detail says that that couldn't be just a coincidence.
10. Margo's shirts in the "Despicable Me"
Margo's shirts in the "Despicable Me" movies are hints to future movies such as "The Grinch" and "The Lorax". In the first "Despicable Me" movie, Margo is wearing a Lorax on her shirt. In "Despicable me 3", Margo wears a shirt with the Grinch on it.
11. The pictures of Esther and Bolt in "Big Hero 6"
In "Big Hero 6", at the police desk the photo frames contain the pictures of Esther and Bolt from "Bolt".
12. A poster in "Angry Birds" movie
In "Angry Birds" movie, Mighty Eagle's place contains a poster of Hotel California "eagles", as a reference to the band's song.
13. Apple Store in "Angry Birds Movie"
There is an Apple Store in the "Angry Birds" movie. A bird is putting an apple to its ear, like a phone.
14. The sun with the baby face
The sun with the baby face in "Boss Baby" is a shout out to the show "Teletubbies".
15. Africa on Alex's paw
In "Madagascar 2", Alex has a mark on his paw that looks like Africa.
16. Mrs. Potts in "Frozen 2"
In "Frozen 2", Olaf's charades feature a few Easter Eggs, one of them is Mrs. Potts from "Beauty and the Beast".
17. Indiana Jones' golden idol in "Despicable Me 3"
Gru is stealing Indiana Jones' golden idol in "Despicable Me 3" movie.
18. Coffee mugs and a tie in "The Lego Movie"
Lord Business from "The Lego Movie" wears coffee mugs on his head and a tie as a cape.
19. Totoro in "Zootopia"
Bunnyburrow in "Zootopia" looks like Totoro from "My Neighbor Totoro".
20. Bomb Voyage in "Ratatouille"
Bomb Voyage, the villain in "The Incredibles", does a street performance in "Ratatouille". His name also appears on a newspaper that Colette is reading.